During the warm summer months, I love healthy salads that double as a meal for dinner. I like simple, protein-packed goodness combined with veggies or whole grains all in one plate! Despite some quick chopping and prep work, the meal comes together fairly quickly, and can also be a good choice for a summer get together.
We stayed on the beach late today, and had decided on having shrimp for dinner. I was inspired by a recipe in Southern Living Magazine that had Bulger Wheat in it, and decided to change it up and make my own spin on a Roasted Shrimp and Quinoa Salad.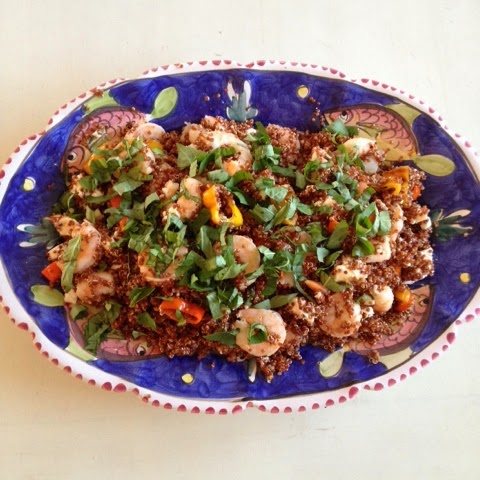 Quinoa is so good for you! It is packed full of protein and a healthy whole grains that carry zero-guilt along with them! Quinoa has been recently proclaimed as a "superfood" because it is gluten-free, and is a great source of calcium, magnesium and iron,  I like red quinoa, and prefer it for it's flavor and extra protein, but you can also try the white quinoa variety.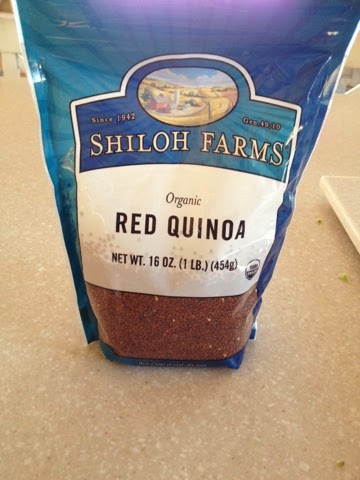 I added some baby bell peppers that I chopped and roasted up at the same time as the shrimp. These are great for snacking too! They are full of photonutrients, like Vitamins A, C and K, and folate. Their beautiful color makes any dish pleasing to the eye!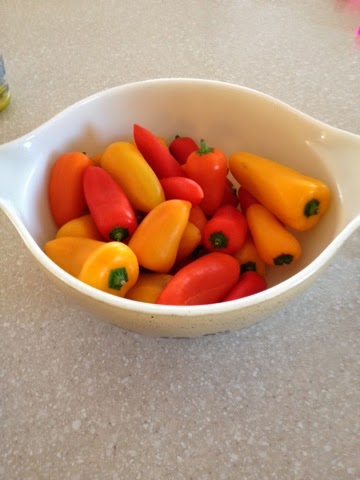 I tossed the salad together with some feta chese, a nice citrus vinaigrette and some chopped herbs, and Voila! ….a summer meal one could only dream up!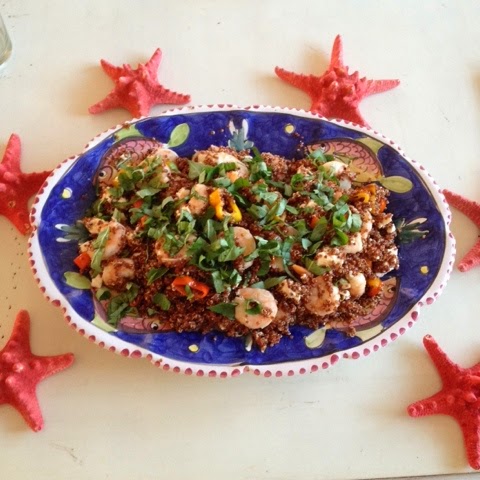 Here's the recipe:
Roasted Shrimp and Quinoa Salad
1 cup red quinoa
1 lb. raw shrimp, peeled and deveined
4 tbsp. olive oil
Salt, pepper
1/2 tsp. garlic salt
Crushed red pepper
1/2 cup chopped feta cheese
1 bag baby bell peppers, chopped
Fresh chopped basil and/or parsley, or other fresh herb of choice
Dressing:
1/4 cup olive oil
Juice from 1 whole lemon and 1 whole lime
Salt, pepper
Cook the quinoa according to the directions on the package. Set aside.
Preheat oven to 400 degrees. Toss the shrimp with olive oil, salt, pepper, garlic salt and a dash of red pepper and r
oast the shrimp on a baking sheet. 
Cook until pink, about 7 minutes, stirring occasionally. At the same time, roast the sliced bell p
eppers on a separate tray. (Toss them with olive oil, salt and pepper, too, before roasting!). Cook at 400 degrees for 10-15 minutes or until peppers get soft and crispy.
In the meantime, whisk together olive oil, lemon and lime juices, and salt and pepper and set aside.
Put the quinoa in a bowl and pour 1/3 of dressing over quinoa. Stir well. Add bell peppers, shrimp, and feta to the bowl, and add additional dressing. Toss salad well and top with fresh chopped basil, parsley, or other fresh herb of choice!