Since you can't travel to Italy right now with everything going on in our world with Covid-19, why not bring Italy right to you! This Caponata di Melanzane is one of the best things I have ever had. Thanks to @elainetrigiani for sharing this amazing recipe and for bringing Italy to us. Elaine is my dear friend, @mamatrigiani Jamia's, sister in law who lives in Italy. If you have not checked out Elaine's posts yet, you need to! She is amazing and hosts Zoom calls straight from Italy sharing beautiful Italian architecture, culture and food.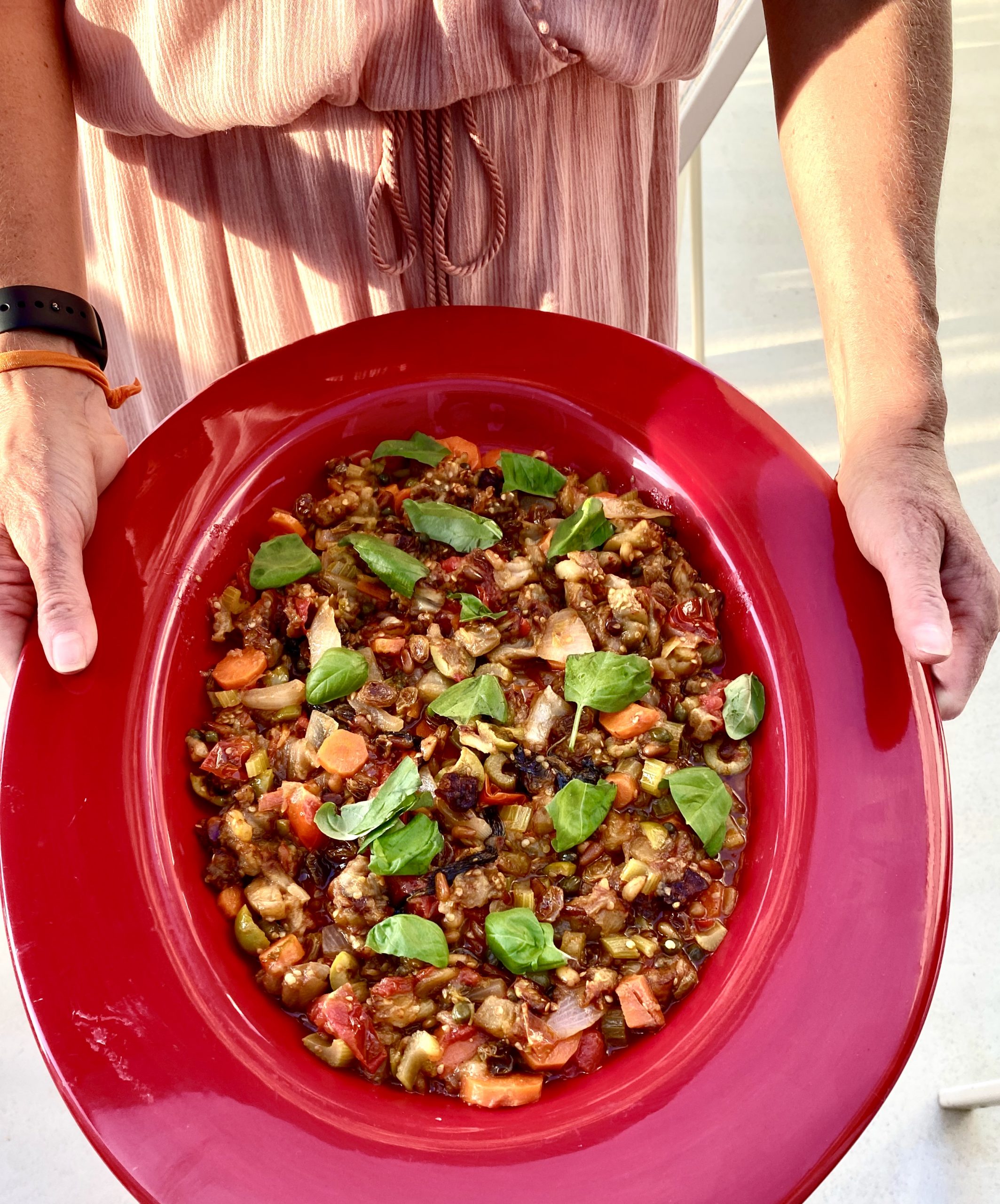 I cannot say enough good things about this Caponata recipe! The flavors are blend together so well and the dish is absolutely scrumptious. All ingredients are fresh and healthy, and anti-inflammatory. I hope you enjoy this recipe as much as I did!
Ingredients:
serves 6 – 8
3 medium eggplants
1 onion
2 carrots
4 celery stalks plus the tender leaves from the interior
2 cups tomatoes, coarsely chopped
cinnamon
fresh hot red pepper
basil if you have it, whole leaves
1/4 cup toasted pine nuts
handful of raisins or currants (leave them to plump in hot water for 5-10 minutes)
handful of capers, under salt, salt shaken off
15 or so large green olives
1/4 cup mead vinegar or white wine vinegar
2 Tablespoons honey
salt
extra virgin olive oil
optional toppings:
small handful of chopped bitter chocolate
big handful toasted almonds
dried orange zest
Directions:
Peel the eggplant if you like in stripes, or leave the skin on and cut into (roughly 1 inch) cubes. Leave the eggplant in a colander sprinkled with very coarse salt for a couple of hours.
Roughly chop the onion, carrot, celery, celery leaves and tomatoes. Pit and roughly chop the olives.
In a frying pan with olive oil, sauté the onion, carrot, celery and celery leaves with the hot pepper until the carrots and celery have softened.
Add the tomatoes, cinnamon and basil if you have it and let it bubble over lively heat to reduce the tomatoes. Add the olives, capers, raisins, pine nuts and salt to taste. Continue cooking until the juice from the tomatoes has reduced but there is till some liquid left in the pan.
Make a well in the center of the pan and add the vinegar and honey stirring them together to dissolve the honey. Mix it all together and let it cook until the acrid aroma of the vinegar has boiled off but there is still some liquid in the pan.
Meanwhile, rinse the salt off the eggplant and dry it well by pressing it between two dish towels. In a separate pan fry the eggplant with just enough olive oil until it is soft and cooked through, even letting it brown a bit here and there. The eggplant will absorb the olive oil like a sponge releasing the oil back into the pan when it nears doneness When the eggplant is done let it rest on paper towels to remove any excess olive oil.
Stir the eggplant into the vegetable mixture. Serve barely warm, at room temperature or cold with some toasted almonds on top, a bit of coarsely grated chocolate and/or a sprinkling of dried orange zest.
chocolate
The crunchy, Aztec style chocolate I put on top of the caponata is made by Pierpaolo Ruta and his team at the historic Antica Dolceria Bonajuto in Modica on Sicily, you can purchase from him directly or in the USA from Zingerman's.
mead vinegar
Mead vinegar can be found in the USA at Artesano Mead in Vermont. For the folks in the Anglo-Celtic Isles I see various mead makers in both the UK and Ireland but none seem to make vinegar. If you ask them nicely they might make some for you.
dried orange zest
To make dried orange zest peel an orange so that you have a long spiral, hang it in a dry place until it shrinks and then grate the concentrated, perfumed zest wherever you want a little punch of orangey citrus.
tomatoes
For the caponata I chose a mix of San Marzano and Costoluto Fiorentino tomatoes because they both have a nice pulp and not too much liquid which means they quickly cook down into a relatively thick sauce.